Nestlé Touches a Chord with Mom & Kid with NesPlus Campaign
Significantly, NESPLUS was rolled out in India as recently as July, 2018, through the first of its kind digital-first approach on Amazon's Prime Day.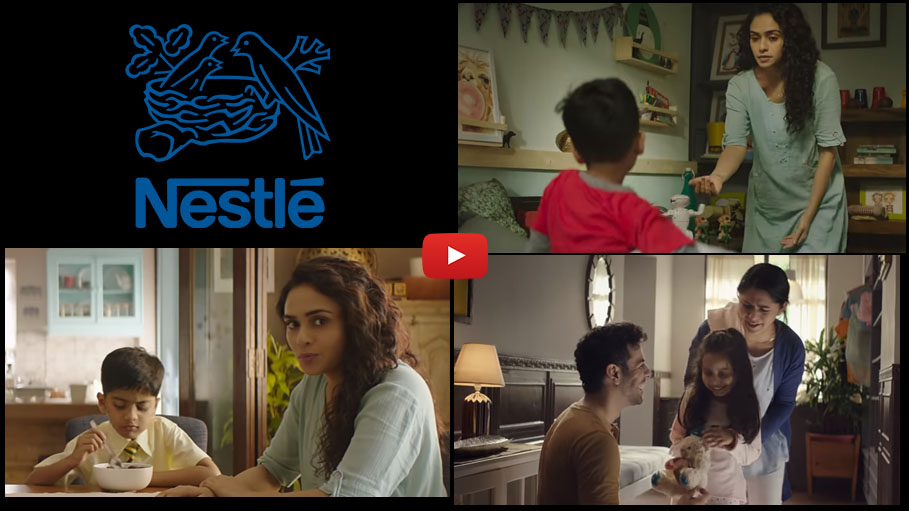 For any kid, the best way to wake up every morning is certainly with the love and affection of the mom. A 'Kadak Naashta' symbolizes that. And NESPLUS, a range of nutritious and delicious breakfast cereals from the stable of Nestle, wants to touch a chord with the mom and the kid on that note. In its maiden television commercials (TVC), NESPLUS, therefore, focuses how a 'Kadak' breakfast combined with mother's love is the driving force to wake us up every morning. The TVC also highlights the tasty and healthy aspect of the product with a focus on how NESPLUS breakfast cereals remain crunchy even in warm milk until the last bite. The initiative aims at bringing NESPLUS' Kadak campaign to life, top company officials said.
"We are extremely excited to launch the first ever TVC for NESPLUS Breakfast Cereals. NESPLUS breakfast cereals are a perfect combination of taste and nutrition. Made with 4 grains, wholegrain and their huge plus of being crunchy even in warm milk, is what sets NESPLUS cereals apart from others. The ad campaign captures how NESPLUS, coupled with mothers' love will prove to be the 'KADAK' dose of wholesome ingredients that every household requires in the morning. With the perfect taste combined with loads of health, we are certain that NESPLUS is certainly leading its way to become the 'Kadak Naashta' of Indian families. The pan India campaign entails a heavy focus on nationally covering not only key metro towns, but also larger regional clusters with regional TV. We aim to reach out to every mother who is looking for a 'kadak start' for her family's day," said Aparna Chopra, business executive officer, Nestlé Breakfast Cereals.
Significantly, NESPLUS was rolled out in India as recently as July, 2018, through the first of its kind digital-first approach on Amazon's Prime Day. This was the first ever FMCG launch on Amazon prime which resulted in over a million interactions with the brand within the first week of activation even prior to the launch. A record sale of 1 unit of NESPLUS every 3 seconds post-launch was registered for NESPLUS breakfast cereals.
Top company officials pointed out that Nestlé Breakfast Cereals, being introduced by Nestlé India, is actually part of Cereal Partners Worldwide (CPW) a leading global breakfast cereal company. Established in 1990, the Switzerland headquartered CPW is a long-standing partnership between Nestlé and General Mills, bringing together the world-class capabilities of both companies. CPW has a strong global network with 4,600 employees, 17 factories, four R&D centers and sales teams in more than 130 markets. With more than 50 brands to suit all ages and lifestyles globally, CPW strives to make breakfast better with nutritious, tasty and convenient food that helps people start their day in the best possible way.
Talking about the brand's first ever campaign through TVC, Chopra said that the TVC for NESPLUS breakfast cereals shows how mothers across the country are making sure that they kick-start their kids' day on a 'KADAK' note. The campaign revolves around the morning routine of mothers with their children showcasing how they get them ready for school every day. The mothers are shown serving NESPLUS breakfast cereals to their children for a 'KADAK' start. Filled with the goodness of 4 grains wheat, rice, jowar and oats, NESPLUS breakfast cereals give '4 grains ka KADAK dose' just like a mother's 'KADAK' love.
Get our hottest stories delivered to your inbox.
Sign up for Scrabbl Newsletters to get personalized updates on top stories and viral hits.