Saudi Princess on Vogue Cover Raises Women's Enthusiasm Yet Faces Backlash
The June cover of Vogue Arabia that features its Princess Hayfa bint Abdullah al-Saud on a driving seat, sparks outrage across the country.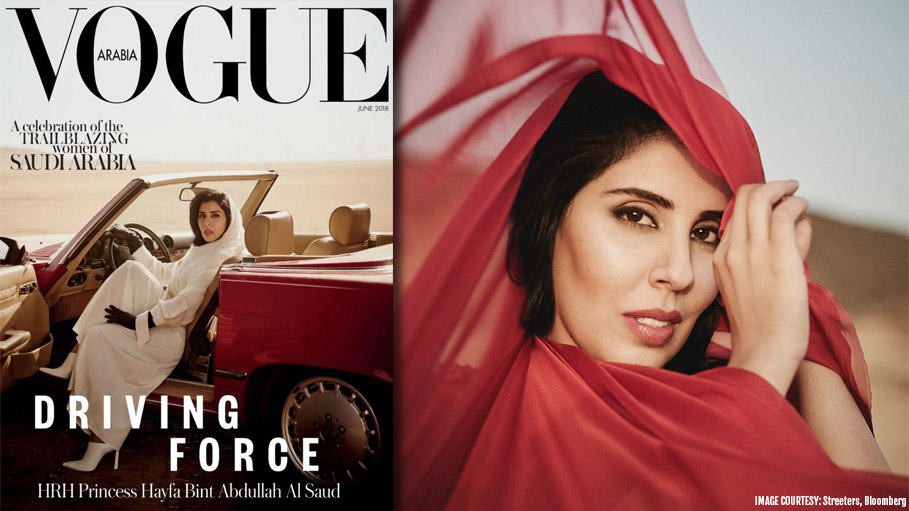 It was meant to enhance the driving spirit of the Saudi women, however, drew backlash from protesters. The cover that captioned the image, "Driving Force", along with a sub-copy, "A celebration of the trailblazing women of Saudi Arabia" is definitely not yielding Vogue the kind of feedback it expected from this unprecedented issue, dedicated to the women of Saudi Arabia.
Several women activists who were jailed a few years back for making way for the women who want drive a car on their own, when there was an official ban on the matter. Back in 2017, the Crown Prince Mohammed bin Salman issued a list of reformations in the law, where many restrictions on the Saudi women were eased up. Officially, the ban on women drivers will be lifted from 24rth June onwards.
The Crown Prince of Saudi Arabia, Mohammed bin Salman
Saudi Princess Hayfa, sitting in the red convertible looks gorgeous with her one hand gripping the steering. In an interview published in the Vogue magazine she said that there are a few conservatives in the country who fear change, "For many, it's all they have known. Personally, I support these changes with great enthusiasm."
Clearly, the Princess's words were not much of help. The women activists who were detained in 2014 for carrying out the women's driving movement were held incommunicado. They were even labeled by the state media as "traitors" and "agents of embassies".
The 'Women2drive movement' supporters didn't stop condemning the Princess and the magazine cover on social media. However Vogue kept posting their exclusive, 'groundbreaking' cover in form of blog posts, one of the protestors lashed out saying, "A Saudi princess is on the cover of @VogueArabia to celebrate women finally being allowed to drive. Yet, her family is currently jailing the pioneering women that actually fought for that right,".
Hopefully, Vogue's special cover image featuring the Princess will be accepted and recognized by Saudi citizens as the celebration of Saudi women's driving liberty. Welcoming a revolutionary step like this, in an extremely conservative Muslim Kingdom is no way ordinary. The world awaits such more women-friendly acts in the coming days.
Get our hottest stories delivered to your inbox.
Sign up for Scrabbl Newsletters to get personalized updates on top stories and viral hits.