WikiLeaks Founder Julian Assange Arrested
A video sequence of the arrest showed Assange, being pulled out the embassy and pushed into a police van waiting outside. He looks pale and in grey beard.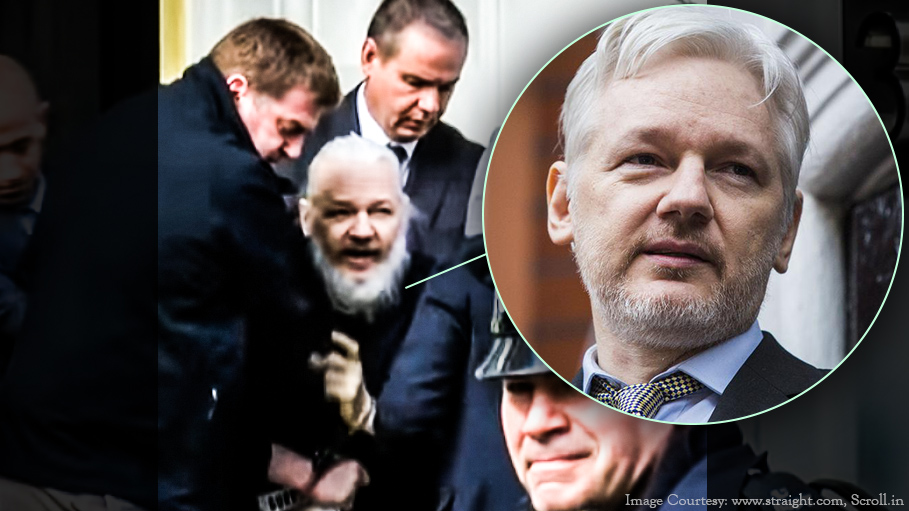 After seven years of asylum, the British authorities from the Ecuadoran Embassy in London finally arrested WikiLeaks founder Julian Assange.
A video sequence of the arrest showed Assange, being pulled out the embassy and pushed into a police van waiting outside. He looks pale and in grey beard may be because of staying indoors for a number of years. Legally the British police cannot enter the building as it under the diplomatic control of Ecuador. But authorities informed that the arrest is allowed by Ecuador.
Though there were protests on social media, some crying it's a violation of freedom of expression, some supporters of Assange viewed the act is a violation to the Vienna Convention, an international agreement that specifies how host countries should treat diplomats and embassies on their soil. Assange, an Australian citizen, is given political asylum by Ecuadoran embassy in 2012 and these rules are rarely broken.
One of the important points in the Vienna Convention also specifies that police and security officials cannot enter an embassy without valid permission or arrest warrant. It is because of this clause the Turkish authorities could not able to search immediately the Saudi consulate in Istanbul last year, after the disappearance of Washington Post columnist Jamal Khashoggi.
It is also for years why British authorities could not enter the Ecuadoran Embassy in London. In 2012, British Foreign Office also argued that it has every right to revoke the embassy's diplomatic status under the country's Diplomatic and Consular Premises Act, passed in 1987, but it ultimately could not carry through on this threat. Now, it is clear that the Ecuadoran embassy has initiated the process.
After the arrest, Ecuador also released its official statement confirming that they have broken the terms of the Assange asylum by the country because of his "discourteous and aggressive behavior". Ecuadoran President Lenin Moreno also released a video statement on Twitter saying, "Ecuador has sovereignly decided to terminate the diplomatic asylum granted to Mr. Assange in 2012. The asylum of Mr. Assange is unsustainable and no longer viable".
Julian Assange was granted political asylum at the Ecuadorian embassy in the year 2012 after he sought asylum to its embassy in London. At that time he was staying in London in order to avoid his extradition to Sweden, where he is facing a series of legal challenges including allegations of sex crimes, which the 47-year-old has always denied. He also feared that if he goes to Sweden he might face extradition to the US, where he could be put on trial for the WikiLeaks leaks.
Julian Paul Assange founded WikiLeaks in 2006, but came to international prominence in 2010, when WikiLeaks published a series of leaks which includes the Collateral Murder video (April 2010), Cable Gate (November 2010), the Afghanistan war logs (July 2010) and the Iraq war logs (October 2010). Following the 2010 leaks, the Government of the United States launched a criminal investigation against WikiLeaks issuing an arrest warrant for Assange and it is when he fled the US.
Get our hottest stories delivered to your inbox.
Sign up for Scrabbl Newsletters to get personalized updates on top stories and viral hits.