Qualcomm's Snapdragon X50 Modem Chipset Chosen by Xiaomi, Oppo, Vivo, AT&T, Verizon, Sprint, Sony and Others - Next Generation 5G Cellular Technology Trials Begin
Qualcomm, the top chip manufacturer announced that its Snapdragon X50 modem chipset was chosen by several global operators and carriers for upcoming next-generation 5G cellular technology trials.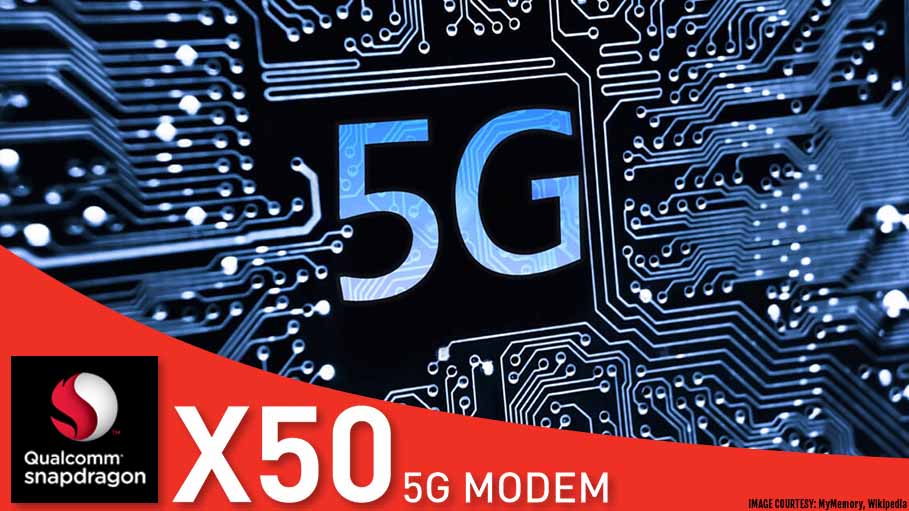 A few hours back, Qualcomm, the top chip manufacturer announced that its Snapdragon X50 modem chipset was chosen by several global operators and carriers for upcoming next-generation 5G cellular technology trials. End of last year, on December 21, the 3GPP (the organization that oversees cellular standards) has Approved the specification for Non-Standalone 5G NR (New Radio) at a meeting in Lisbon, Portugal. Getting these standards finalized before the end of 2017 was the mission of carriers, such as AT&T and Verizon. Facilitating the approval, implied that chip-makers can start developing the silicon-based parts that will work with 5G networks. Qualcomm, one of the top chip makers, confirmed that its Snapdragon X50 5G New Radio (NR) mobile modem chipset was chosen by 19 global operators and 18 carriers for upcoming mobile 5G trials. The chip giant also received pledges from more than a dozen OEMs (Original Equipment Manufacturers) to use the component for commercial 5G device launches due in 2019.

About Qualcomm
Qualcomm is an American multinational semiconductor and telecommunications equipment company that designs and markets wireless telecommunications products and services. It invents breakthrough technologies that transform how the world connects and communicates. It derives most of its revenue from chipmaking and the bulk of its profit from patent licensing businesses. The company headquarters is located in San Diego, California, United States, and has 224 worldwide locations.
Qualcomm Incorporated includes the licensing business, QTL, and the vast majority of the patent portfolio. Qualcomm Technologies, Inc., a subsidiary of Qualcomm Incorporated, operates, along with its subsidiaries, all of the engineering, research and development functions, and all of the products and services businesses, including, the QCT semiconductor business. As Qualcomm leads the world to 5G, ths company envisions this next big change in cellular technology spurring a new era of intelligent, connected devices and enabling new opportunities in connected cars, remote delivery of healthcare services, and the IoT (Internet of Things), including smart cities, smart homes, and wearables.

Global Operators to use Qualcomm's 5G Cellular Technology Trials
Wireless network operators slated to use the Snapdragon X50 5G New Radio (NR) mobile modem chipset for live, over-the-air mobile 5G trials include AT&T, British Telecom, China Telecom, China Mobile, China Unicom, Deutsche Telekom, KDDI, KT Corporation, LG Uplus, NTT DOCOMO, Orange, Singtel, SK Telecom, Sprint, Telstra, TIM, Verizon and Vodafone Group, among others.
Xiomi, Vivo, Oppo and Others amongst OEMs to Launch 5G Handsets in 2019
Innumerable global smartphone and PC OEMs have tied up with Qualcomm to incorporate the Snapdragon X50 5G NR modem on to their mobile devices. Qualcomm has said the first smartphones featuring its X50 5G NR modem will hit the market in 2019, with Chinese growing brand Vivo promising such a handset next year. Major mobile phone OEMs joining hands with Qualcomm include a number of familiar names such as LG, ASUS, Fujitsu, Nokia, HTC, Inseego/Novatel Wireless, Netcomm Wireless, Netgear, OPPO, Sony, Xiaomi and ZTE, among others.

Qualcomm not Supported by World's Top Three Smartphone Vendors
Though top brands have come forward for the 5G trial, the absence of Apple, Samsung, and Huawei, the world's top three smartphone vendors is quite evident. While Huawei has been making its own AI chipsets with plenty of patents under its sleeve, the iPhone maker is currently embroiled in a legal battle with Qualcomm. On the carrier side, T-Mobile isn't mentioned in the announcement, although the Uncarrier has worked with the chip maker in the past on gigabit LTE. These three vendors account for almost 50 percent of total smartphone shipments and more than 80 percent of premium smartphones in the market. In 5G terms, they represent the main addressable market for early deployments, according to analysts. Many of these smaller device OEMs have little to no presence in many countries, including the US, suggesting that other markets, notably those in Asia, could be the first to get their hands on 5G smartphones. Still, Qualcomm is promoting the commitments as proof that its mobile 5G NR technology is ready for the smartphone form factor.

According to Qualcomm president Cristiano Amon, 2018 will be a big year for Qualcomm Technologies and the mobile industry overall as they work to execute on the agreed upon 5G NR specification. These trials will demonstrate how the chip maker is working with global operators to fuel growth and innovation in the mobile industry thereby making 5G a reality by supporting a large number of expected commercial launches in 2019. Qualcomm unveiled the Snapdragon X50 in 2016, with plans to make it commercially available during the first half of 2019. It was designed to enable field trials and early deployments of 5G networks globally, allowing download speeds of around 5Gbps and supporting operation in the mmWave spectrum at the 28GHz band, with 800MHz bandwidth, along with Multiple-Input Multiple-Output (MIMO), adaptive beam-forming, and beam-tracking technologies.
The modem can be used for 4G and 5G mobile broadband, along with fixed-wireless broadband devices, when paired with a Qualcomm Snapdragon platform and its gigabit-speed 4G modem.
Apart from smartphones, the new Snapdragon X50 5G NR modem will be available on Always Connected PCs, Head-Mounted Displays (HMDs), including Virtual Reality (VR), Augmented Reality (AR) and Extended Reality (XR) as well as Mobile Broadband. Qualcomm claims this technology will offer faster browsing, faster downloads, better streaming, and instant cloud access on phones. The modem will enable high speed and low latency for Always Connected PCs, and ultra-low latency for HMDs. However, to be practical, as it happened with 4G, initially with 5G too, things will take time to move and gradually catch up speed. Until then let's keep a close watch on this interesting tech space, lot more on the way.
Get our hottest stories delivered to your inbox.
Sign up for Scrabbl Newsletters to get personalized updates on top stories and viral hits.