Apple Emerges as the Global Leader in a Declining Smartphone Market - Samsung and Huawei Follow
Apple overtakes the Korean technocrat, Samsung in the fourth quarter, as the largest smartphone producer, in a shrinking global market for handsets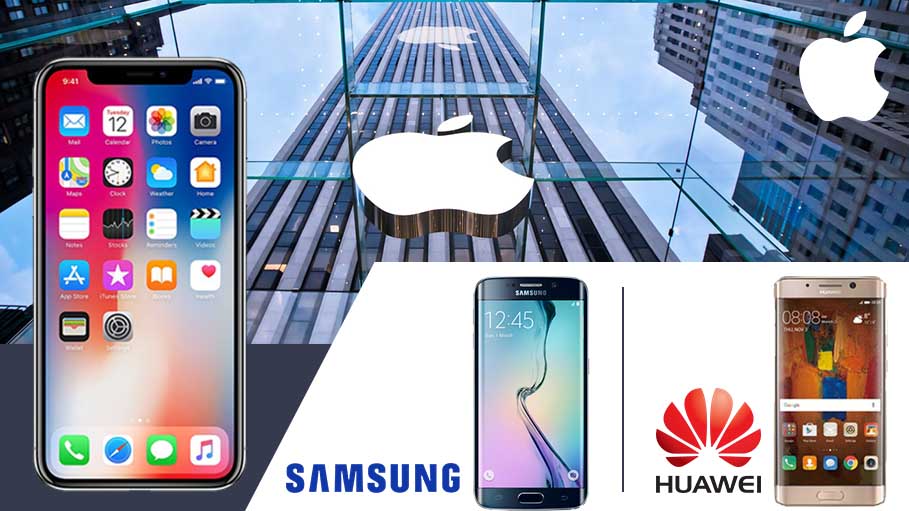 As major technology firms declare last quarter results, Apple emerges as the undoubted leader. The iPhone maker overtakes the Korean technocrat, Samsung in the fourth quarter, as the largest smartphone producer, in a shrinking global market for handsets, research firm International Data Corporation (IDC) said on Friday.
Apple Leads, followed in Sequence by Samsung, Huawei, Xiaomi and Oppo
According to a survey report published by IDC, Apple reported its quarterly data on Thursday and clearly led all vendors with 77.3 million iPhones sold, giving it a 19.2% market share.
Even though Apple's fourth-quarter unit sales were down 1.3% as compared to fourth-quarter of 2016, it was able to move ahead of South Korea's Samsung, whose 74.1 million devices sold gave it a market share of 18.4%, IDC said.
Huawei managed the third position with a 10.2% market share, followed by chasing fellow Chinese manufacturers Xiaomi in the fourth and Oppo in the fifth position, with 7.0% and 6.8%, respectively, according to the survey.
Overall smartphone sales were down 6.3% with 403.5 million handsets shipped.

High-end Devices More of a Fancy than a Necessity as per Consumer Behavior
According to the analysts, high-end expensive and flashy devices could not mesmerize consumers to upgrade at the spur of the moment. Normal users did not show urgency to move to the latest and most expensive flagship smartphones from Apple and Samsung. Though slick looks and hi-tech features captivated buyers during the holiday season.
So one can easily conclude that these high-end devices proved to be more of a luxury than a necessity among general consumers. Moreover as the top brands expanded their offerings, companies outside the top five, for example, Vivo Electronics, struggled to maintain momentum and failed to make it to the top five, even if it is a young global smartphone brand focusing on developing dynamic and stylish products with perfect sound quality and ultimate photography using cutting-edge technology.

Why the Decline in Global Smartphone Shipment?
Samsung, which reported a 4.4% decline in the fourth quarter, remained the top smartphone vendor for the full year with a 21.6% market share, to Apple's 14.7%.
A different survey from Strategy Analytics found similar market share for smartphone vendors, but found a 9% dip in fourth-quarter sales, described as the largest decline in the smartphone era. The shrinkage in global smartphone shipments was caused by a collapse in the huge China market, where demand fell 16% annually due to longer replacement rates, fewer operator subsidies and a general lack of wow models as mentioned by Strategy Analytics.
Winner Takes It All with Powerful Strategy
Apple posted 13 per cent year-on-year growth in revenue at USD 88.3 billion in the fourth-quarter and profit of USD 3.89 per share. The company's International sales accounted for 65 percent of the quarter's revenue. The tech leader had fantastic results all around the globe with double digit revenue growth in all the geographic segments, an all-time quarterly record in the vast majority of markets they track, including the US, Mainland China and India as stated by Apple chief financial officer Luca Maestri on an investor call.
Apple's Performance in India
Luca, in Apple's current quarter 2018 call mentioned India to be one of the prominent markets for Apple devices.The comments come a day after the Indian government raised the customs duty on imported smartphones to 20 percent as part of Budget 2018-19. The move, aimed at encouraging local manufacturing and domestic value-addition may impact Apple as it imports its devices.
According to research firm Counterpoint, the premium smartphone segment in India witnessed over 20 percent growth in 2017 over the previous year with Apple maintaining its leadership position holding 38 percent market share during 2017.


Apple as the Global Tech Leader
The iPhone X has been the top premium model, ahead of OnePlus 5T, Google's Pixel series and Samsung Note 8 in the segment, according to Counterpoint.
According to Apple CEO Tim Cook, the company's growth was broad-based and the key driver was iPhone, which generated its highest revenue ever, revenue for the newly launched iPhone X was the highest of any lineup in Apple's history, driving total Apple revenue above their expected range.
During the fourth-quarter of 2017, Apple had sold 77.3 million iPhones, the highest number ever for a 13-week quarter. iPad sales also grew by strong double-digits in emerging markets, including Latin America, the Middle East, Central and Eastern Europe and India besides the developed markets. Being an Apple fan and an ardent follower of Steve Jobs, the Master, I find what's most impressive about Apple is that it has been consistent in expanding its presence in the highly competitive smartphone market, even though its products have always been priced at a premium or ultra-premium level.
Get our hottest stories delivered to your inbox.
Sign up for Scrabbl Newsletters to get personalized updates on top stories and viral hits.